Rouge National Urban Park Hike
CUHKAAO HIKING GROUP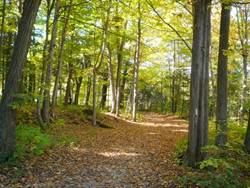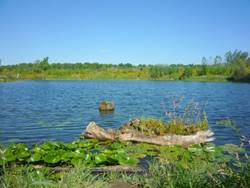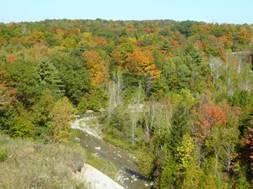 In May 2011, the Canadian Federal Government announced plans to convert Rouge Park into a National Park. In May 2015, the Rouge National Park Act came into effect and the Rouge National Urban Park is formally established. On July 11, 2015, the Government of Canada announced that 21 km2 of new land in Pickering and the Township of Uxbridge will be added to the existing park. With this new added land, the Rouge National Urban Park will have an area of 79.5 km2, making it 22 times the size of Central Park in New York City. A brand new welcome centre has been built at the Meadowvale and Park Road Entrance and it will be ready to welcome visitors in the near future. At this transition stage, the trail system within the park has remained unchanged. 
This will be a pleasant fall hike. The hiking trails are well maintained but are not paved. There are some hilly and rugged sections, but the terrain will not be challenging to an average hiker.  
To learn more about Rouge Park, please explore the following website: http://www.rougepark.com/index.php
The hike will begin promptly at 9:30 a.m. Please arrive at the assembly point 15 minutes before start time.
Date:                          24th October, 2015 (Saturday)
          Start time:                 9:30 a.m.
          Duration of hike:      approximately 2.5 h
Assembly point:        Rouge Park (Twyn River Area Parking Lot)
Registration:            Please e-mail Peter Li (李 斌) at cuaaohiking@gmail.com and provide him with the names, e-mail address, cell phone number, college and year of graduation of the participant(s). Please also submit, electronically, a completed and signed waiver form for each participant if you have not done so for the previous hike.
What to wear:           hiking boots, hat, comfortable clothes, rain gears (if necessary).
What to bring:          sun screen, drinking water, energy bar and snacks, sunglasses,
                                 insect repellent, walking stick (optional)
Directions to Twyn River Area Parking Lot
1. Take
Hwy 401 and exit at Meadowvale Road. At the exit, go north on Meadowvale Road to Sheppard
    Avenue East.
2.
Turn right at Sheppard Avenue East
and keep left immediately.
3. When you see the
Jaffray Chinese Alliance Church
(located a short distance east of Meadowvale Road 
     on the north side of Sheppard Avenue East),
move immediately to the left turn lane
.     
4. Turn left onto Twyn Rivers Drive. (This is a narrow street and the entrance to the street is rather difficult
    to see from Sheppard Avenue.)
5. Continue on Twyn Rivers Drive. You will cross two bridges. After crossing the second bridge, drive for
an additional 300 m, and you will see a large unpaved parking lot on your right. This is the Rouge Park Twyn River Area Parking Lot. (Note: This parking lot used to be marked by a large sign standing at the entrance. For some reason, the sign has been removed. It is possible that a new sign will be erected by Parks Canada in the future.)
6. Please pull into this parking lot, park your car and report to the hiking leaders.
Further driving directions can be found from the following link. 
. 
Road map
Please click the following link for a road map to Rouge Park Twyn River Area Parking Lot. Please zoom out to see connecting roads.
https://www.google.com/maps/d/edit?mid=zHm8AF_y8Ld8.kzEE4bBIupi0&usp=sharing
Important Registration Notice
In order to give the hiking leader responsible for registration ample time to make up the hikers list, please register for the hike before 7:00 p.m. on 23rd October 2015 (Friday). If you register too late, your name will not be included in the hikers list, and the hiking leaders will be unaware that you are coming to the hike. Your co-operation in this matter is greatly appreciated.