Morningside Park Trail
CUHKAAO Hiking Group
  <![if !vml]>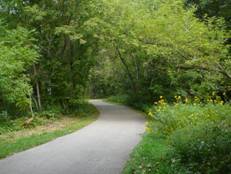 <![endif]> <![if !vml]>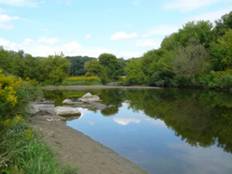 <![endif]><![if !vml]>
<![endif]>
Morningside park is a 168.6 ha regional park located in Scarborough, Toronto. The park, which lies in the valley of Highland Creek, is bounded by Morningside Avenue on the east, Ellesmere Avenue on the north and Lawrence Avenue to the south. This urban park has beautiful vista, lush forests, picnic areas, public washrooms and ample parking. The hiking trail in the park runs along the bank of Highland Creek. The trail is paved, well maintained and is connected to the trails winding through Scarborough College and Colonel Danforth Park. As a result one can hike from Morningside Park all the way to the Waterfront Trail along the shore of Lake Ontario.
The trail for this hike is rated as easy, but the duration of the hike will be around 3 hours. You can expect to see some beautiful scenery and if our timing is right you may even see some salmon in the Highland Creek.
The hike will begin promptly at 9:30 a.m. Please arrive at the assembly location 15 minutes before start time.
Date:                       26th September, 2015 (Saturday)
          Start time:              9:30 a.m.
          Duration of hike:  approximately 3.0 hours
Assembly point:     Morningside Park Parking Lot
                                 (390 Morningside Avenue, Scarborough, Toronto)
Registration:          Please e-mail Peter Li (李 斌) at cuaaohiking@gmail.com           and provide him with the names, e-mail address, cell phone number, college and year of graduation of the participant(s). Please also submit, electronically, a completed and signed waiver form for each participant if you have not done so for the previous hike.
What to wear:        hiking boots, hat, comfortable clothes, rain gears (if necessary).                                                                                      
What to bring:       sun screen, drinking water, energy bar and snacks, sunglasses, insect repellent, walking stick (optional)
Important Registration Notice
In order to give the hiking leader responsible for registration ample time to make up the hikers list, please register for the hike before 7:00 p.m. on 25th September 2015 (Friday). If you register too late, your name will not be included in the hikers list, and the hiking leaders will be unaware that you are coming to the hike. Your co-operation in this matter is greatly appreciated.  
Directions to Morningside Park
The entrance to Morningside Park is on the west side of Morningside Avenue, just south of Ellesmere Road. Please consult the Google Map to find an east-west route convenient to you to get to Morningside Avenue. North of the park entrance, Sheppard Avenue East, Hwy 401 and Ellesmere Road all intersect Morningside Avenue. South of the park entrance, you can get to Morningside Avenue via Lawrence Avenue East or Kingston Road. The directions via Hwy 401 (Eastbound) are provided below for your reference.
Note: Morningside Park has more than one parking lot. We will start our hike from the first parking lot you encounter after you enter the park. If for some reason you have to park in a different parking lot, please come to the assembly location in the first parking lot to wait for the start of the hike. (See pictures below.)
From the west Via Hwy 401(Eastbound)
<![if !supportLists]>1. <![endif]>Take Hwy 401 (Eastbound) to the Morningside Avenue exit (Exit 387)
<![if !supportLists]>2. <![endif]>At the exit, turn right and go south on Morningside Avenue
<![if !supportLists]>3. <![endif]>After passing Ellesmere Road, keep right and continue to drive for 0.6 km. You will see the entrance to Morningside Park on your right.(See picture of park entrance below.)
<![if !supportLists]>4. <![endif]>Turn right into the park and follow the entrance road for 0.15 km. You will see a large parking lot in front of you. Please park your car in this parking lot and assemble at the bridge shown in the picture below.
<![if !vml]>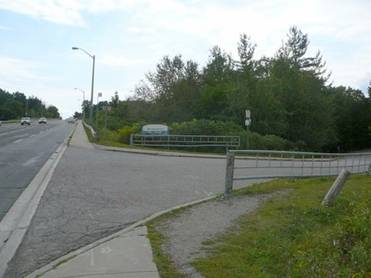 <![endif]> <![if !vml]>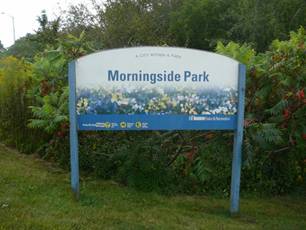 <![endif]>
   Park entrance as seen from Morningside Ave Southbound Lane                    Sign at the entrance of Morningside Park
<![if !vml]>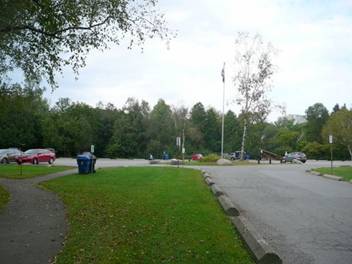 <![endif]><![if !vml]>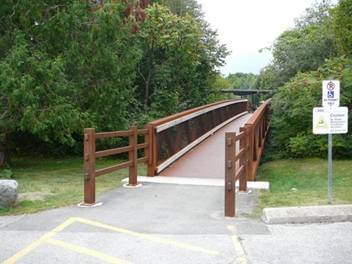 <![endif]>
    First Parking Lot encountered after entering Morningside Park              Assembly location is at this bridge in the first parking lot
Road map
Please click the following link for a road map to Morningside Park.
https://www.google.com/maps/d/edit?mid=zHm8AF_y8Ld8.kbJUSYTmlHMY&usp=sharing