WELCOME LUNCH FOR EXCHANGE STUDENTS
CUHKAAO is hosting a welcome lunch for CUHK exchange students.
When:
October 17, 2015 (Saturday)
10:30 am
Where:
Legend Chinese Restaurant (麗晶酒家)
5 Glen Cameron Road, Thornhill, ON L3T 5W2
(North east of Yonge and Steeles, near 7289 Yonge Street)
Interested alumni who want to join the welcome lunch,
please contact Simon Li (simonli333@yahoo.ca) by October 15, 2015.
---
2015 Hiking Schedule
The CUHKAAO hiking group would like to announce the schedule for the 2015 hiking season. Please mark the dates on your calendar, and plan to join us on the hiking trails. Hiking is a full body workout that boosts your spirit, sharpens your concentration and improves your stamina. Hiking will also do wonders for your cardiovascular health and build your lower body muscles. The benefits are too numerous to list. So come hike with us. Please watch your email for more information as we approach the date for each hike.
All alumni who are interested in joining the hiking activity are asked to fill out the WAIVER FORM. Please sign and return the completed form (either in pdf or jpg format) to cuaaohiking@gmail.com, before the first hike in 2015. The waiver form will remain valid as long as the alumnus/alumna participates in the hiking event organized by the CUHKAAO.
For all of our hikes, participants are reminded to be self-sufficient and to bring water, food, appropriate clothing, and sturdy footwear. Hikers must be physically fit and will be required to sign a waiver before participating.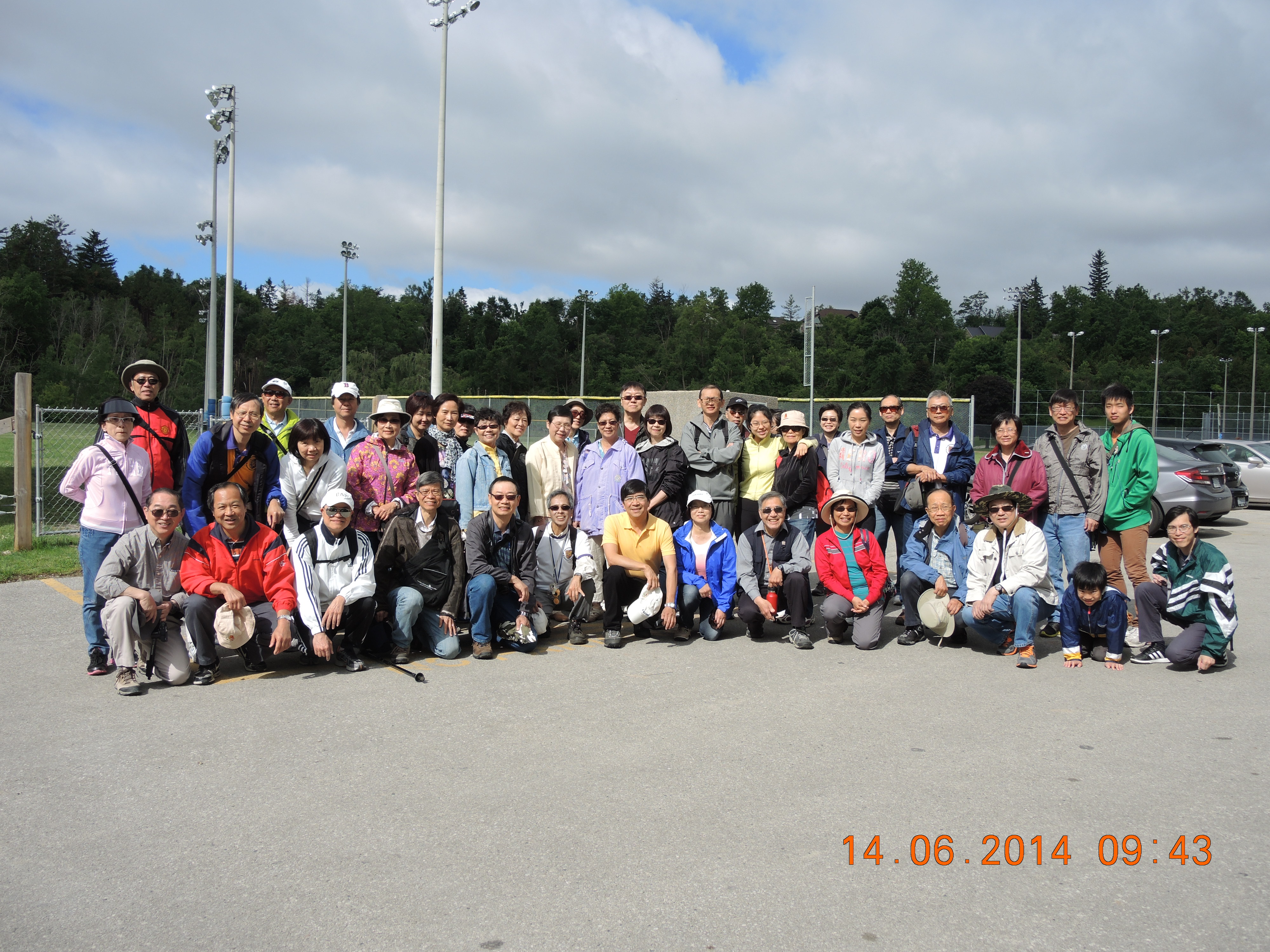 Date
Hiking Trail
May 23, 2015
(Saturday)
North Tract, York Regional Forest
(Whitchurch-Stouffville)
June 27, 2015
(Saturday)
Glen Major Forest
(Uxbridge)
July 25, 2015
(Saturday)
Silver Creek Conservation Area
(Georgetown, Town of Halton Hills)
August 22, 2015
(Saturday)
Palgrave Conservation Area
(Town of Caledon)
September 26, 2015
(Saturday)
Morningside Park Trail
(Scarborough, Toronto)
October 24, 2015
(Saturday)
Rouge Park
(Scarborough, Toronto)
To register, please send an email to Peter Li (李 斌) at cuaaohiking@gmail.com with the your name, e-mail address, and cell phone number.
Want to know more about the hiking group? Please contact Peter Li (cuaaohiking@gmail.com).
---
沈祖堯校長歡迎晚宴
Please follow hyperlink in the header above for photographs of the event.
Additional pictures can be found by clicking this link.
他們來,就只為了看我們 ......
我們敬愛的沈祖堯校長 (Vice-Chancellor Professor Joseph Sung) 到美國公幹,特意提前一天到多倫多,不為什麼,就只為了與我們相聚!校長將會介紹中大之發展宏圖,與大家暢所欲言。校友事務處處長鄭健文 (Daniel Cheng) 同行,加強與安省校友的溝通。
在安省之中大、崇基、新亞、聯合四間校友會,攜手合辦歡迎晚宴,能夠與校長面對面共話家常,了解母校面對之機遇和挑戰,機會難得,別錯過唷!
| | |
| --- | --- |
| 日 期: | 5月15日 (星期五) |
| 時 間: | 6:00 pm - 9:00 pm |
| 費 用: | 每位 $25 (歡迎攜眷參加) |
| 地 點: | 君臨天下 (Emperor Fine Chinese Cuisine) |
| | 9019 Bayview Avenue, Unit #9, Richmond Hill, ON L4B 3M6 |
部分餐費將由四間校友會及熱心校友贊助,敬請盡快向以下校友報名,或聯繫相關之校友會幹事。 到時見!
報 名:
崇基:John Liu (jlwliu@gmail.com)
新亞:Edward Leung (edcc.leung@gmail.com)
聯合:Sammas Lau sammaslau@rogers.com
中大:Simon Li (simonli333@yahoo.ca)


---